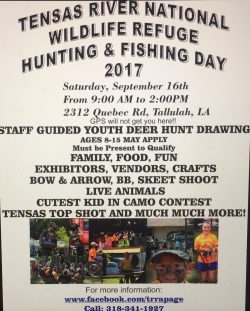 What is it?
It is a day each year that is full of FREE FAMILY FUN! H&F Day is geared toward youth and youth education of our great outdoors. Full of fun activities such as bouncy houses, rock climbing, bb shoot, skeet shoot, range finder, and combined with learning activities such as name that scat then match it with the track, compass reading, real live CRITTERS to pet, frog catching (if frogs available), way too many activities to list. Also, it is the day of the YOUTH LOTTERY DEER HUNT DRAWING! You must sign up for the hunt on this day and must be present to qualify! We will have a CUTEST KID IN CAMO Contest, Tensas Top Shot, String Flinger… What's up with MEMORY LANE?? Come see what that's about. Lots of DOOR PRIZES, SILENT AUCTIONS, VENDORS and EXHIBITORS will be on hand to show new products, one of a-kind-products, and so much more!!!
For more information call Wanda @ 318.341.1927
Posted on September 7, 2017 at 3:30 pm
Share this post!




Comments