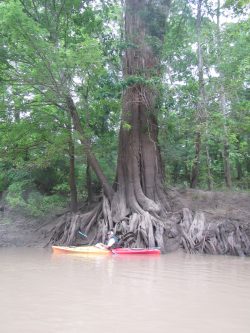 "Water Sweep" is an award winning event that encourages groups and individuals to help us clean the scenic Ouachita River and shoreline. Staging sites for the event were Lazarre Park, Forsythe Park, Moon Lake Recreation Area, Bawcomville Recreation Area, Black Bayou Lake NWR, D'Arbonne NWR, ULM/Bayou Desired and Sterlington Recreation Area.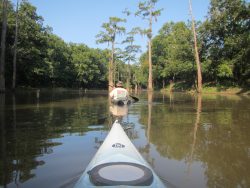 Louisiana Delta Adventures was one of the sponsors for the event providing financial support for the purchase of t-shirts for volunteers. Two of our board members: W.E. (Skip) Hawkins and Stephanie Antley Herrman provided leadership at Moon Lake Recreation Area and D'Arbonne NWR, respectively.
Here are highlights from the Ouachita Water Sweep in Union Parish. One River. Two National Refuge Systems. One Bayou. Four launch sites. 12 volunteers. Eight hours. 32 bags of trash. Three hawks. Three herons. One black lab. A brown snake. Two dirty diapers. Beer cans & liquor bottles too numerous to count. Cigarette butts. Fishing line. Bait syrofoam containe
rs. Gatorade bottles. Empty shotgun shell casings. Fish guts. Helium balloons. Duckweed. Cypress. Tupelo. Spanish Moss. Wild Hibiscus. Willows. Wild Flowers. Leaves Falling. Cool breeze. Swarms of love bugs. And four launch sites that look better than they did this morning. Thanks to everyone that gave your time to make our waterways better!!!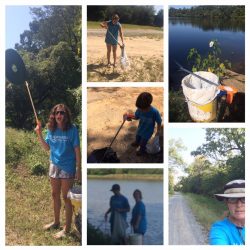 Posted on September 11, 2017 at 4:03 pm
Share this post!




Comments