North Louisiana's Official Menu
They made it official — north Louisiana has its own menu to distinguish it from the rest of the state.
Farmers' Markets
1700 N. 7th Street
West Monroe, LA 71291
Phone: (318) 322-2210
(Fax)
Phone: (318) 322-2203
Hours:
7:00 AM – 6:00 PM
Monday through Saturday
Seasonal Hours May Apply
The Louisiana Delta is the place for food lovers. Local eateries offer a great selection to satisfy any taste.
Lake Providence/East Carroll Parish
Ducks Nest II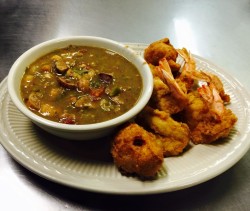 Located on beautiful St. John Lake in Ferriday the Ducks Nest II is a family owned steak and seafood house. It's located next door to Spokane Resort. This kid friendly restaurant also has outdoor seating. Call for reservations or just drop by.