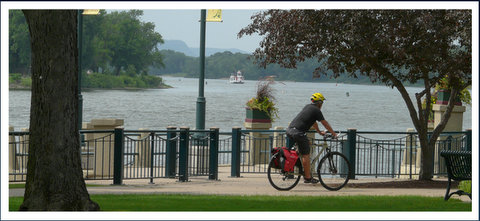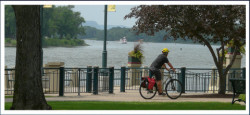 Mississippi River Trail – Bicycle Trail
One of the longest bicycling trails in the United States follows the entire length of the Mississippi River. The Mississippi River Trail offers 3,000 miles of bike and pedestrian paths as it follows the river from Lake Itasca in Minnesota to the Gulf of Mexico in Louisiana. Much of the trail runs along paved roads. Avid cyclist Bob Robinson has written the Bicycling Guide to the Mississippi River Trail, now in its second edition.
Sections of the Mississippi River Trail are off limits to motorized vehicles. A portion of the trail in New Orleans, for example, runs atop the main river levee for more than 20 miles.
Biking Trails in Monroe Area
Forsythe Park to Northside Loop
This biking trail is a paved road and is 9.1 miles in the city of Monroe.
Forsythe Park to LA Purchase Gardens and Zoo or to the University of Louisiana Monroe
This biking trail is a paved road and is 4.8 miles or 3.9 miles.