Home to the great outdoors, the Louisiana Delta Adventures region has much to offer to the traveler. Our area has locally owned and chain hotel/motels. Camping in some parts of the region is also available.
Hotels and Motels
Oak Grove Inn and Suites
Oak Grove Inn and Suites is the perfect place to stay for attending events at the adjacent Thomas  Jason Lingo Community Center or if you are just passing through. Located at  10304 Hwy. 17 in Oak Grove it offers many amenities to the traveler.
Monroe Area Lodging
Home of the Robertson family, stars of the hit A&E show Duck Dynasty, Monroe-West Monroe has many hotels to choose from.
Winnsboro Area Lodging
Home of the Franklin Parish Catfish Festival and
Catahoula and Condordia Area Lodging
Lakeview Lodge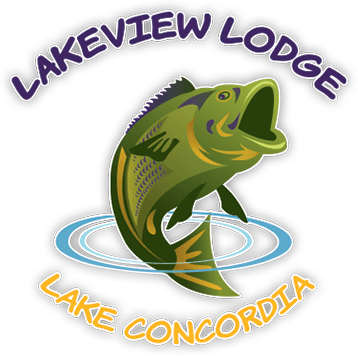 Lakeview Lodge is located on the south end of beautiful Lake Concordia near Ferriday, La. Just minutes away from Vidalia, La. and the tourist mecca of Natchez, Ms. Lake Concordia is an oxbow of the Mississippi river. Cypress trees line the bank of this 1,000 acre lake. It is an open lake used for both recreational boating and fishing. The lake is stocked with Florida strain largemouth bass.  The lake record for largemouth bass is 13lbs 4oz caught in March 1998. Other species that are highly sought after are, sac a lait (white perch, crappie), bluegill, chinquapin (red ear sunfish, shell crackers) and catfish. The lake is also home to an abundance of wildlife. At any time you could see Deer, Squirrels, Racoons and Alligators. The area also boasts populations of Owls, Hawks and different waterfowl such as Ducks, Geese and Herons. Lakeview Lodge is a wonderful place to spend your vacation.
Sportsman Lodge at Lake Concordia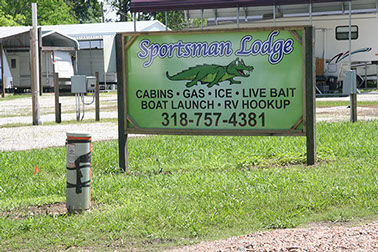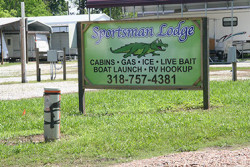 Stay in a rustic cabin with central air and heat, and access to BBQ grills and fish cleaning stations at beautiful Lake Concordia. There are three piers on the property that overlook the beautiful lake and are great to fish from. Picnic tables, shady swings and sitting areas are available all over the property, making the perfect setting for your summer getaway!  Our convenient bait and snack shop offers crickets, worms, ice, chips, drinks and more.
Spokane Lodge on Lake St. John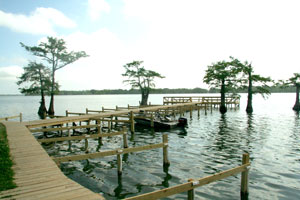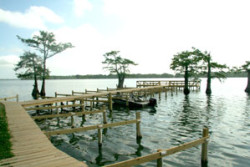 Lake St. John, just outside Ferriday is a great place for fishing and boating, swimming or water skiing. Spokane Resort offers you a comfortable lake vacation or weekend getaway that's fun, convenient, and cheap!
Our lake vacation rentals include three lakefront cottages with a shared deck, a private cottage with its own patio, cabin type rooms that have been newly and beautifully renovated inside, and even RV slots with hookups.
Uncle Bud's Cabin
Uncle Bud's offers you luxurious, fully furnished cabin rentals and some of the best fishing and hunting in the entire state. RV sites also available. Located on the outskirts of the Dewey W. Wills Wildlife Management Area, Lake Larto has become the hot spot for Bass, Bream, Catfish, White Perch, and Crappie fishing in the Bayou State!