Roselie Overby, avid birder, spoke to a group of 15 participants at Earth Day on Saturday, April 25, 2015 at Black Bayou Lake National Wildlife Refuge.  Overby taught participants how to identify birds by song. From a birding app she played the bird's song and then introduced participants to bird sound mnemonics. She also showed the bird's picture and talked about their habitat.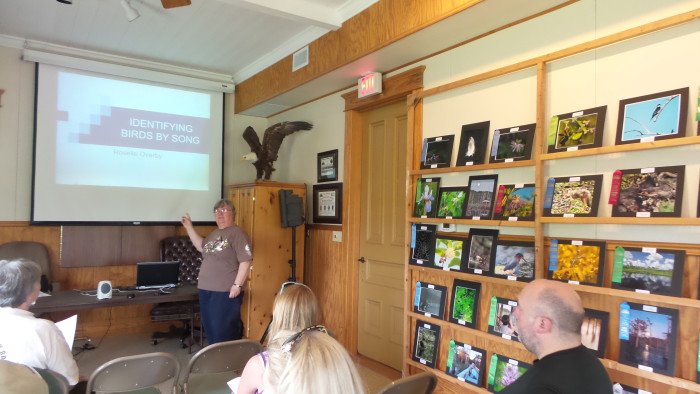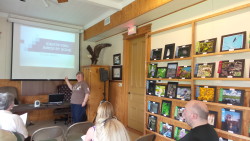 For example, after she played the sound for a Carolina Wren from the app, she said that the mnemonics sound is, "Teakettle, teakettle, teakettle."
Overby told participants to begin learning bird sounds by learning five at a time. She mentioned that many times you hear the bird and don't see the bird.
She suggested that beginning birders go to the state bird website: www.all-bird.com/state-birds.htm to learn about the birds in our state.
Ms. Overby also suggested using birding apps on smart phone. She further added that most birding guides now have apps: Peterson Birds, National Geographic, Sibley and Audubon. Friends use iBird and BirdLog. A new bird identification app free from Cornell University is Merlin Bird ID. Download time is long for this app. Other online resources that include bird songs: enature.com, whatbird.com, allaboutbirds.org
Following her presentation, participants ventured outside to try their new skills.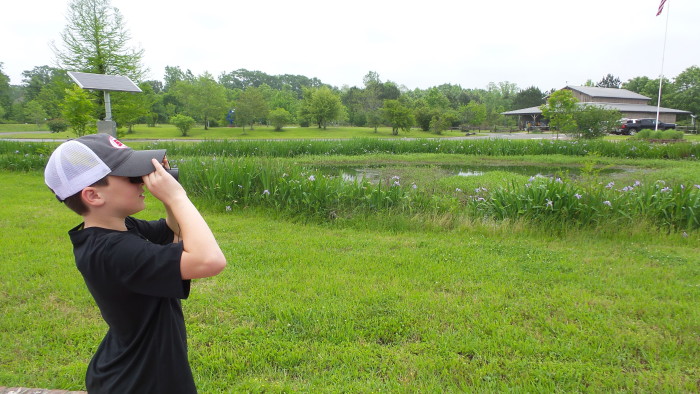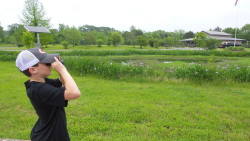 Using binoculars this young man I hoping to identify a bird.
Louisiana Delta Adventures sponsored Overby's talk entitled, "Identifying Birds by Song."
Posted on April 25, 2015 at 5:33 pm
Share this post!






Comments